Jurassic World: Dominion Dominates Fandom Wikis - The Loop
Play Sound
Angelina Dehn Gustavsson (born March 22nd, 1995), better known as Ängie, is an Swedish singer and songwriter.
Her debut single Smoke Weed Eat Pussy was released through Rich Parents AB (distibruted by Universal Music AB) in September 2016, becoming an overnight internet sensation and being called 'the most shocking star of 2016' by The Sun.[1]
Since then, Dehn has released multiple singles and her debut EP, Suicidal Since 1995 on 2018 and has worked ceaselessly to produce two full-lenght albums, Not Pushing Daisies, her debut album released in July 2020, collaborating with Harrison First after their Each Other EP a year before, and Heartburn, her collaboration album with Tail Whip released in January 1st, 2021.
Ängie continues to work non-stop on her music, releasing singles and working on albums continually with the objective of earning a larger public organically.
Early Life
Angelina grew up on a small town in Sweaden called Nynäshamn, where she doesn't have a lot of nice things to say about. She describes the atmosphere as restricted and the inhabitants as racist, homophobic and sexist.[2] Dehn's childhood was hard as she was suffering from attention deficit hyperactivity disorder and had depression.[3] Her family life also wasn't easy, at a very young age her dad went to jail "for many reasons" as she stated in interviews, while her mom drank a lot.[4] Because of that, Ängie was raised in foster care as a child, so she grew up alongside her non-biological brother in a house with lesbian mothers.[5]
Ängie's teenage years were the worst time in her life. Her depression and anxiety were worse than ever, and she often contemplated suicide. "I have a scar on my forehead from when I was 14, because I jumped off a cliff. I was super drunk and asked myself, 'Is this life? Is this it?' I was like, 'I've been trying for so long, I just don't get it.' So I jumped. I woke up seven meters down, and I pushed my hands to the ground and was watching them in the moonlight. There were blood drops but I just saw black spots. I called out to my friend to say I fell down, because I was ashamed. My friend said, 'What the fuck? Have you seen yourself?' I was covered in blood and I had bruises all over my face. All these things happened because I was bullied, and everything is just inspired by how much I hated these people who made me feel that way. I was the good one, but I couldn't see that until now" – Ängie stated in her interview with Gay Times.[6]
At 15, she discovered her attraction for women and was bullied by her social circle when she came out about her first relationship.[7] Because of her mental state as well as her surroundings, she started doing drugs. After years of her life without her dad, at 16 she moved in with him after he came out of jail and her mom wasn't sane enough to take care of her. "I didn't really know him when I moved in, so we were more like friends I did a lot of drugs without him knowing. I was doing amphetamines when I was just a kid" – tells Ängie in an interview.[8]
Career
2016-2017 : Smoke Weed Eat Pussy, Housewife Spliffin and Spun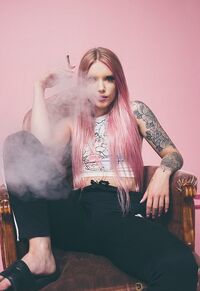 After years of experimenting with art and poetry and socializing with fellow creatives in coffee shops as a waitress, she wrote her first song, "Smoke Weed Eat Pussy", which caught the attention of Johan Tilli of Swedish duo Death Team[9] – after she sent a Snapchat video of her singing it as a joke – who ended up producing the track.[10] The single was a sleeper hit, achieving more than 9 million views on Youtube and signing her up with the label Rich Parents AB. The song made her an internet sensation, being called 'the most shocking star of 2016' by The Sun, and drawing comparisons to Miley Cyrus for the 'controversial' topics that the song has. About that, the singer stated that she thinks it is hypocritical that no one raises the eyebrows if a male artist reports on exactly the same things she addresses, but when a woman does so, moral panic erupts. "It is tragic that people are still offended. I have received a lot of hate since I released the single, but also a lot of love", Ängie said.[11]
Her pastel aesthetic contrasting with the explicit lyrics caught the attention of a lot of people, and fans started popping up around the wordwide web, specially on Brazil and Russia.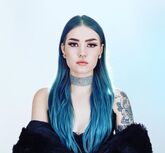 Later, on November of the same year Ängie released her second single under the label Rich Parents AB, "Housewife Spliffin'", following the same themes and aesthetic as the first one and had a minor buzz around the internet, being Ängie's second biggest hit.
On March 2017, Ängie released her third single along with its music video, "Spun", this time making it a little bit more personal talking about her borderline disorder, she later revealed that the point of view on the track is like other personality.[12] Later a mini EP for remixes of the track was released that year.
2018: Suicidal Since 1995
Ängie released her debut EP Suicidal Since 1995, on April 2018. The EP caused a little controversy because of its title and cover, but Ängie stated that the EP is not about glamorizing suicide, but about overcoming suicidal thoughts.

The lead single, "Dope", was released on February 2nd, 2018 and music video being released on the 14th of the same month.
The second single, "Here For My Habits", was released on March 23rd, 2018. When the music video for "Dope" reached 500K views on Youtube, Ängie released a double feature music video for the track along with the last track on the EP, "Venus In Furs" - a cover from the band Velvet Underground.
Ängie also released a video for the fourth track on the EP, "We Run". The video was directed and edited by Ängie, although the song is not an official single.
2019: Independent works and Each Other
After the release of her debut EP, Ängie decided that being in a label wasn't the right path for her, and went independent.[13]
As an independent artist, Ängie started the year releasing the single IDGAF on January 25th, that received over 200K streams on Youtube and Spotify in a few weeks, even though it didn't got a music video because of the lack of budget.
On March 22nd, 2019, she released her first single in Swedish, called Ett Tag featuring the duo Ambivalensen.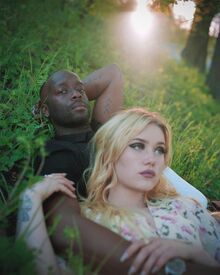 On May 17th, 2019, she released "Orgy Of Enemies", a dark rap song featuring Australian rapper Zheani, her most personal song yet and very different from her usual style of music. On the same month, Ängie stated in an interview for Gay Times that she was working on her debut album, Everything Is Fake, and both "Orgy Of Enemies" and "IDGAF" would be on the tracklist. The album was later cancelled and indefinitely posponed due to lack of organization in the production and not enough bugdet to finish the project. She later revealed in an interview that the main reason why the project was scrapped was a fight that she had with its main producer, Canto.
On June 14th, 2019, Ängie released a mini EP in collaboration with producer Harrison First called Each Other, and later that month a music video for its lead single, BAMBAM. Despite being an independent release with almost no promotion, the EP was a success, especially its lead single, which received over 1 million streams only on Spotify. After the EP, Angelina and Harrison decided to work in an album togother.
On September 27th, Ängie released the stand-alone single "Kiss Me In Slowmotion" alongside a music video. She confirmed in the same day that it was just a song to feed the fans while bigger projects were being prepared.
Meanwhile, during 2019 Ängie was also working with friend and producer Tail Whip making another full-lenght album called Heartburn, and at the end of the year on November 22nd, she released the first single from it, "Dust".
2020-2021: Not Pushing Daisies and Heartburn
Ängie started the year promoting what was supposed to be her debut album, Heartburn. After the release of "Dust", she started posting snippets of lyrics on her Instagram, and in January she posted a crowdfunding campain on Corite to help with the budget of the music video of the second single of the album, "Sad Sex". The single was released on February 14th, 2020 and although the campaing got €820 for the music video, it still wasn't filmed.
After the release of "Sad Sex", Ängie and Harrison First started to slowly hint on their new project, posting occasional snippets and Instagram Stories of them on studio. On May 29th, 2020, after much anticipation they released the lead single of their debut album Not Pushing Daisies, "Silver Sadness". 
On April 18th, 2020, Ängie did a live concert on Låt Live Leva, a livestream concert made to to collect donations to help combat the COVID-19 pandemic. It was the only concert she made that year, because of the pandemic. She played two unreleased songs at the time, "Eyes Like A Gun" and "Groove", along with the songs from the Each Other EP. After the show, she and Harrison First did an interview where they talked about new projects, and announced that their album was on the way and coming out in June.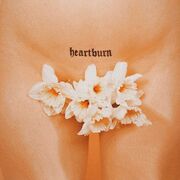 On June 5th, 2020, Ängie and Harrison First's debut album called Not Pushing Daisies finally came out, along with a music video for its second single "Basic". They did a livestream and listening party talking about the album and next projects, saying that they were already planning the next one and even showcased songs that were scrapped from the final project. The album received great response from fans, and reached 3 million streams on Spotify in less than 3 months of release. To promote the album, Harrison and Ängie did interviews for multiple websites and even did their first televised interview on the Swedish program Per Sinding-Larsen. On many of those interviews, Ängie also teased her second album, in collaboration with Tail Whip called Heartburn, that was going to be released in that same year.
On September 30th, Ängie & Harrison released a remix for their most successful single "BAMBAM", by Lucky Luke under the LithuaniaHQ label, and the remix was Ängie's fastest song to reach 1 million streamd on Spotify and Youtube, and gave a boost to her Spotify profile in general, raising her monthly listeners.
After months of anticipation and not many news, Ängie finally announced that her second album was going to be released on January 1st, 2021. Heartburn was received very positively by the fans, being one of the favorite projects Ängie has released. In an Instagram post, she said: "Its a new era, a new Ängie. This album is the most beautiful thing I ever created in my life I think. I hope you're gonna love it as much as I do. We been working on it for an entire year!". Accourdinh to her, Not Pushing Daisies is a bit more commercial and the second album is more artistic.
On May 7th, 2021, Ängie released her first solo single in two years, called "Drug Lullabies", written with Maja Francis and produced by MINNA. She released the single as a surprise and said the song was one of her favorites she has ever wrote. The cover for the single was shot on her Iphone by her friend Natasa Slisket and the music video was shot professionally months before she released the single.
Throughout 2021, Ängie and Harrison First continued to work on their second studio album together, this time with an alt-rock influence for the production and much like the first one would have a collection of songs with various themes, including made up stories and very personal ones.
Personal Life
Relationships and Sexuality
When Ängie was 12, she came out as a lesbian[14], and until her teenage years, she 'felt grossed out by dicks'.[15] Later on her teenage years, Ängie had her first relationship, that lasted about a year and the ending of it inspired her debut single Smoke Weed Eat Pussy.[16]
As an adult, Ängie discovered herself as a bi/pansexual woman – she hasn't decided what denomination she prefers, and doesn't really care about it. On her interview for Gay Times, Ängie stated about her sexuality: "I don't really go by looks at all, they can be attractive but persona is so much sexier than looks. If you don't click with the person, there's nothing sexy going on at all. And why do you need a fucking stamp? Like, 'Here, you're gay.' I guess there's comfort in telling people what you are."
Despite being a proud member of the LGBTQ community, Ängie is constantly attacked by 'fans' for being in a relationship with a man. Because for some reason, if you identify as bisexual or pansexual, and you date someone of the opposite sex, you're a fraud. "It's really hard. On YouTube, when I upload videos that have my boyfriend in, people will say, 'She's not a lesbian! She's a fake.' I get super mad. Why the fuck would I make the kind of music I do if I wasn't LGBTQ? I know I shouldn't be mad at comments because it's stupid people saying stupid shit, but I do get offended because I had a really hard time coming out."[17]
Mental Illness
Ängie has ADD (Attention Deficit Disorder), anxiety and depression since she was at a very young age, and later developed Borderline Disorder. She is very open about it and is a self proclaimed mental health advocate.
"It's really hard [being famous], especially when you're sick in the head like me. I've got Borderline, ADD, as well as other stuff. It's weird to understand what's going on all the time and to give myself the "you deserve this, you worked hard" pep talk. It's hard to be kind to yourself."
"I just wish people would accept people with borderline a bit more. People don't really get it, they think you're just being 'emo'. But really, it's like your emotions are much more vulnerable – when you're happy you're so excited and it's like ecstasy for four days, but when you're sad you just want to kill yourself. The only thing that makes you stay alive is that you feel bad for your parents, or your friends." – Ängie about Borderline Disorder.[18]
Ängie has wrote multiple songs about her mental health regarding her disorders such as "Spun", "Orgy Of Enemies" and "Psychosis", also some unreleased tracks like "Borderline", "Stockholm" and "Summer In The City".
Drugs and Addiction
Ängie was an openly marijuana user and is a big advocate for the legalization of it. About the drug and the first time she did it, she said: "It's almost like self-medicating, but in a good way. When I tried it for the first time, I got to know myself from a fresh perspective. Before, I always tried to fit in. I wanted to look like all those it-girls with blonde hair and skinny jeans. But when I started smoking weed, it really helped with my depression and my anxiety, and I started thinking about who I was, and why I was trying so hard to be someone I'm not all the time."[19] However, Angelina decided to stop smoking weed on 2019 because it was no longer helping her anxiety, causing paranoia and panic attacks.
However, Ängie was a real addict when she was younger, and it wasn't good for her, so now she only smokes cigarettes. She says: "I do not promote drugs. I definitely see how artists can use them to get really good music or art but I don't think drugs are the best thing to do. Even though I sing about it all the time its because I've done them so much, I've been a real addict. But I just don't do them anymore because it's not worth it. You get really slow out of it and more anxious – so I had to chill.
I think you grow out of the sorrow and understand that you can't treat your body like you have been doing and I'm so glad that I came to the conclusion that I did as it's not good for your brain. I can still take inspiration and look back and see the joy but I just don't think it's worth taking drugs with no knowledge of what is in it. I could just drop dead and I have so many things I want to do."[20]
Gallery
Main website: Ängie Photos
Videos
Main Article: Videos
Trivia
Her and Johan Tilli produced several songs along with "Smoke Weed Eat Pussy", however the majority of them have never been released since Ängie finds them bad and cringy.[21]
One of her biggest inspirations is Lou Reed. She even has a tattoo in his honor.
Ängie is really good at painting.

She always thought she would be a painter before deciding she wanted to be a musician.[22]

Growing up Ängie was a part of a female girl rap gang called Bosssa.[23]
Her zodiac sign is Aries.
She liked singing as a kid.
Tacos are her favorite meal.
Her favorite hobbie is to swim.

This is referenced multiple times on "Boss".

Some of Ängie's dream collaborations are Oliver Tree, Doja Cat and Lana Del Rey.
Her favorite subjects in school were art and music.
Ängie is a vegetarian for years now.
She prefers dogs to cats.
She would like to die peacefully in her bed when she's very old.
In 2021, Ängie started to study to be a florist, and even created an Instagram to document her journey.[24]
References